Back in college one of my science classes listed The Soul of Science by Nancy Pearcey and Charles Thaxton on its book list. Was it actually used in the course? I can't remember. Nor can I really remember the class. But I bought it and there it sat, on my shelf year after year, house after apartment after apartment. I made one or two half-hearted attempts to read it – interested but apparently not that interested – until recently it caught my attention again, and I decided to finally "give it the 'ol college try."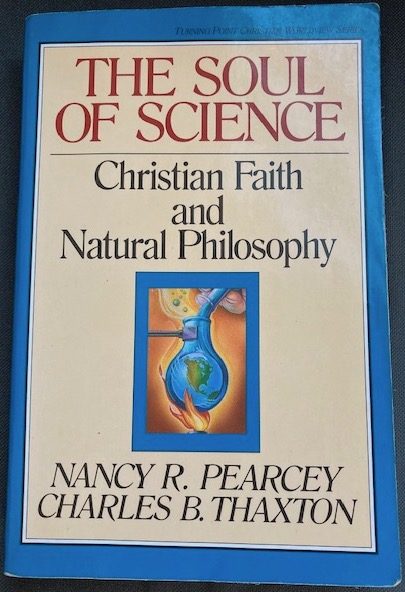 I'm glad I did and, in a lot of ways, I'm glad I waited. In years past I think I would have looked at it primarily as an apologetics book and would have been disappointed when it didn't quite materialize as the scathing criticism of modern science that I thought it would. Nor would I have had enough experience to appreciate its historical and philosophical approach to the topic of "science."
The book does certainly have both apologetic intent and power. It's main thrust, though, is to position science rightly in our scheme of human knowledge. To disabuse us of the tenacious belief in our modern, popular mind that "science" as a discipline rises above philosophy and presupposition and bias and superstition and religion to rest on the solid mountaintop of FACTS. Brute, empirical, observable facts; facts divorced from any larger belief system and standing on their own to display reality "as it really is."
Largely, it seems that science (or at least the popular portrayal of science) still believes this, though philosophy – sorry Enlightenment – has long since been disabused of the notion. Pearcey and Thaxton trace the history of science and the thoughts behind it from Aristotle and Plato through quantum physics and the information revolution. Their readable and extensively researched flyover seeks to show how the larger worldview of the scientist has always driven and interpreted their results and discoveries and also how Christian belief largely fueled the Scientific revolution (only to be replaced with a shaky materialism as the ages progressed).
I highly recommend this book. It will not answer all your questions (it left me with a couple I'm still pondering) or lay waste to philosophical materialism (a task to which I'm not sure science is even suited) but it did lay a lot of groundwork for further growth and reading in this area.
One drawback I will mention, however: the modern scientific discussions are certainly dated (copyright 1994). As this is not the central point of the work, however, the damage done to the overall product is limited.