"I scarcely know where to begin, though I sometimes facetiously place the cause of it all to Charley Furuseth's credit."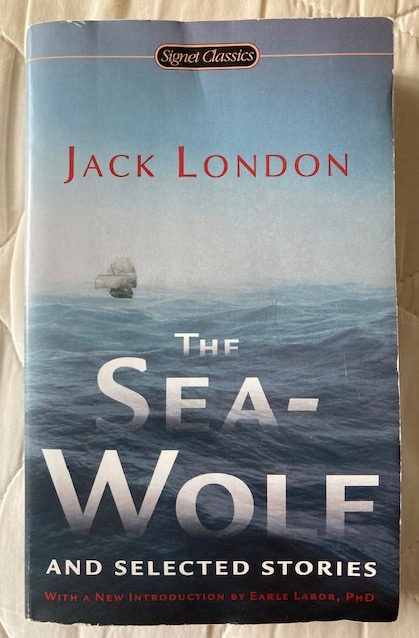 So begins The Sea-Wolf by Jack London. I was feeling recently like I needed a break from modern sci-fi and had seen a collection of London's work at my in-laws that sparked my interest. I've seen or read various versions of London's more famous Call of the Wild and so decided to go with one of his lesser known works.
In brief, this is the story of Humphrey Van Weyden, a young gentlemen who does some writing and "thinking" but lives largely off an allowance provided by the wealth of his father. When his steamship ferry suffers a collision and sinks in the fogs off the California coast, Van Weyden is picked up by a passing seal ship and assumes that he'll be set back on his right course in no time. Not so. Unfortunately for him, he has fallen into the clutches of Captain Wolf Larsen whose whim directs him to impress Van Weyden for the months-long length of the voyage. Larsen is a character to remember: a pure and shockingly consistent materialist, he is utterly without morals or conscience and has the physical superiority to bring about a most violent and tyrannical rule aboard his ship. Van Weyden is horrified at the profane and cruel life experienced by all the sailors and, as one might be transfixed by a raging inferno, is at the same time captivated by his new captain who waxes eloquent in poetry and philosophy one moment and then mercilessly beats an offending sailor the next. Even as his body toughens and his abilities as a sailing man flourish, Van Weyden must battle not only to survive his captain, but to maintain his belief in the transcendent in light of his captain's black and meaningless outlook.
Though first published in 1904, this is an absolutely relevant book. What a character is Wolf Larsen! In his long discussions with Van Weyden – taken up purely for the captain's own pleasure – he articulates and argues for a purely materialistic worldview. This, in our world of atheism and naturalism, is nothing new. What is really fascinating, though, is that the Wolf actually takes this worldview to its logical conclusion and lives it out consistently. He shows his brutal behavior to be absolutely reasonable in light of his presuppositions and, despite a wistful longing for Van Weyden's hope and purpose, carries his worldview to its natural end.
Well would those who espouse Wolf Larsen's materialism take note of their inconsistency when they argue against moral absolutes and then go feed the poor because it's the "right" thing to do. Well would they take note of what materialism – lived consistently – leads to.
| | | |
| --- | --- | --- |
| Profanity | 1.5 | Very little. |
| Violence | 4 | This book highlights the violence upon Wolf Larsen's ship, and there are frequent examples, from knifings and shootings to the dragging (like bait) of a sailor behind the ship. |
| Sex/Romantic Themes | 2 | A romance does develop towards the end of the book but it is nearly without physical demonstration. There is also the hint of an attempted rape, but shown so subtly that the sexual aspect of it is nearly forgotten. |
| Miscellaneous | | |
NOTE: As always, my content notes are for informational purposes, not judgmental ones. For a full explanation of my Content Notes and the scale, click here.