"The train station at Pebbleton, dark and sooty though it was, glistened in the mist."
So begins The Extraordinary Education of Nicholas Benedict by Trenton Lee Stewart. This one was a fairly random pick that I stumbled across, on Amazon I believe, in my search for more family read alouds.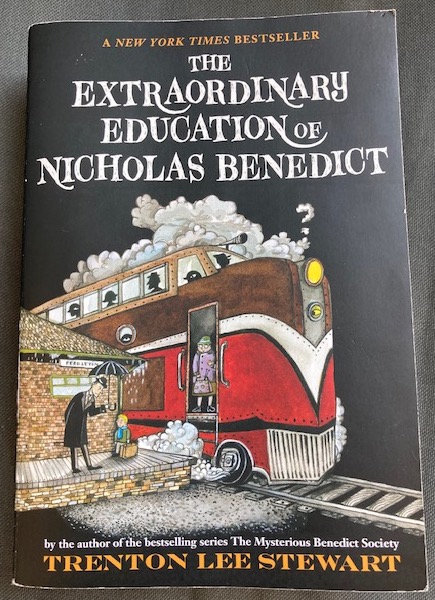 In brief, this is the story of an orphan named Nicholas Benedict who is being transferred to a new orphanage as the book opens. Nicholas is remarkable in several ways: First, he is a genius, equipped with photographic memory, lightening reading skills, and – unusually for such a child – an understanding of human nature that allows him to maneuver brilliantly in his interactions with others. Second, he is a narcoleptic, given to sudden bouts of sleep that are brought on by any strong emotion. Thirdly…well, he has a very large nose. This combination of, er, skills leads to some obvious difficulties for Nicholas, who has found himself on the receiving end of plenty of bullying in his short life.
Rothchild's End, however, opens up new horizons for Nicholas. There are bullies to be sure, and strange caretakers, but there are also dear friends and rumors of a hidden treasure that Nicholas hopes might be his ticket to an orphanage-free life. If only he can find it before the orphanage director does!
We all really enjoyed this book! The characters were interesting and the plot took turns that even my wife and I thought unexpected. It does run a bit long (470 pages and, in my opinion, an over-wordy style), but things kept moving at an interesting pace and we never felt bogged down. Despite Nicholas' frequent lying (why do kids always have to lie so much in these books?) he learns some genuinely laudable lessons along his journey, which ends up teaching him about unselfishness and genuine care for others (even at ones own expense).
Content Notes
| | | |
| --- | --- | --- |
| Profanity | 0 | None. |
| Violence | 1 | Bullies threaten and/or punch a few kids. |
| Sex/Romantic Themes | 0 | None. |
| Miscellaneous | | – |
For a full explanation of my Content Notes and the scale, click here.