"The creature halted, crouched low against the ground, staring at the tiny points of light that lay ahead, burning softly through the darkness."
So begins, The Werewolf Principle by Clifford D. Simak. Another recommendation from the C. J. Cherryh site, this author and title were new to me as well. The trajectory of my experiences with this method of finding new books to read is a good one: Forerunner was terrible, The Ginger Star, better, and this one better still!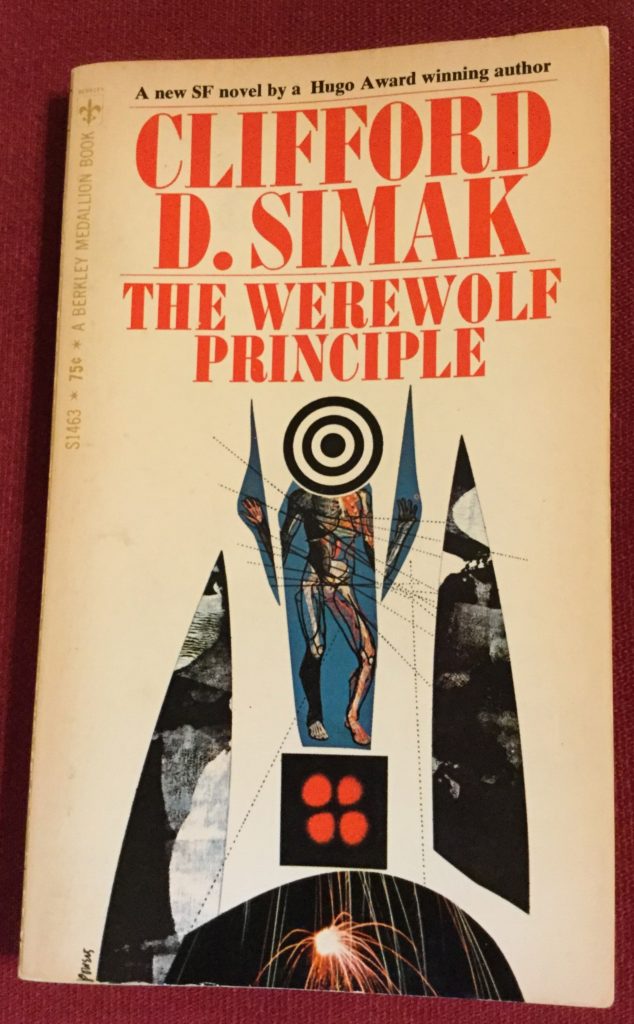 In brief, this is the story of Andrew Blake, a man found floating in stasis in the depths of space and then brought back to an earth aged two hundred years since his disappearance. His adjustments, however, are more than just technological/cultural. It seems that, while absent from his home on earth, something – or someone – has happened to Andrew and that despite appearances, he is no longer an individual human being. More minds than his own now dwell in his body…a body that is changed as well in ways not immediately apparent, even to himself. Those other individuals reveal much about his past, but complicate his place in the future. How does a man blend with humanity whose own humanity is very much in doubt?
I often harass my wife that she enjoys books in which nothing happens. You know, fabulous characters have "experiences" and "inner turmoil" but there's no real action. No political struggle or battle or danger to really drive the plot. The pushback from my obvious (but partly true) stereotype is that my books are all action and no depth (I protest!). I confess that The Werewolf Principle falls more into Kyna's category of plots and that, despite this, I enjoyed it. There's really no action driving this story; it's an engagingly written exploration of what it means to be human and, though it certainly has a story arc to it, much of the conflict in inward, not outward.
I would certainly look for another book by Simak. My biggest complaint is that his ending – which I won't give away – was a bit tidy for me. I'm all about happy endings, but….
| | | |
| --- | --- | --- |
| Profanity | 2 | |
| Violence | 2.5 | There's really only one scene of violence and it is not overly graphic in nature. |
| Sex/Romantic Themes | 1.5 | A kiss and subtle romantic interest, but far in the background. |
| Miscellaneous | | |
NOTE: As always, my content notes are for informational purposes, not judgmental ones. For a full explanation of my Content Notes and the scale, click here.