"Machine-Gun fire tore across the narrow, lifeless stretch of muddied earth separating the armies of the Allies and the Central Powers."
So begins Secret Soldiers by Keely Hutton. This was a random pick-up. A couple weeks ago I determined to go to our library and grab a few of the newest middle-grade/young adult books. This one stood out from the pack, mostly because it wasn't fantasy/sci-fi (soooo many of them are) and it covers the often neglected First World War. So, a quick swipe of my library card at the non-personal, no-human-interaction-required check-out desk, and I was off for home. (That was a criticism, by the way; I hate how our library is structured).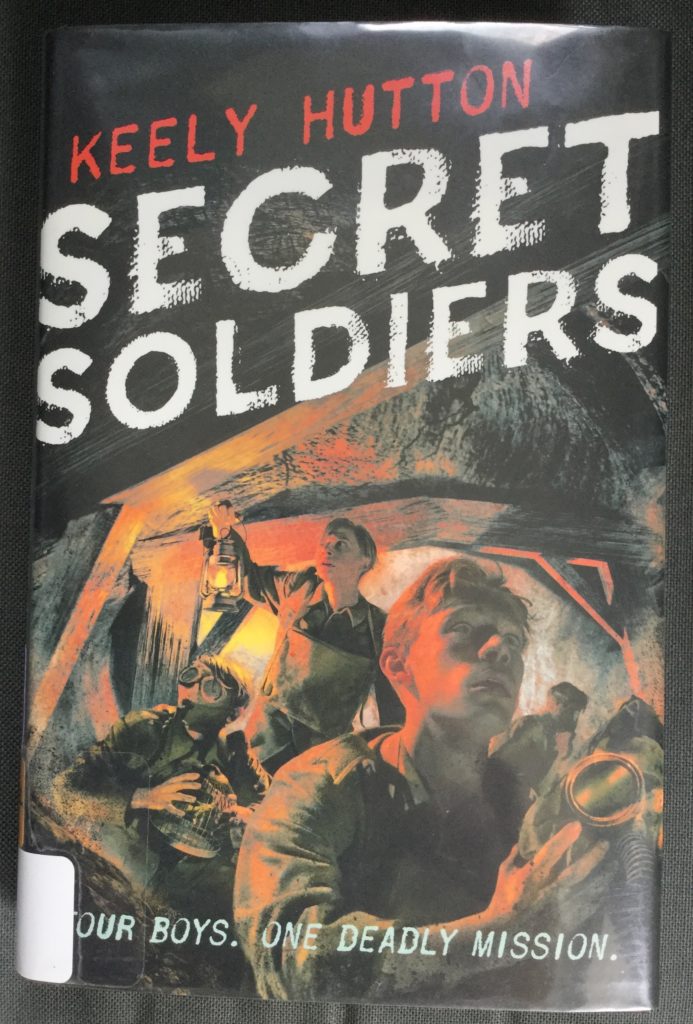 In brief, this is the story of thirteen year old Thomas Sullivan, a British boy intent on getting to the front lines of the Great War to find his brother, who has gone missing on the Western Front. The British army was not in the habit of enlisting thirteen year olds, but via some deception and clandestine enlistment practices, he finds himself across the channel and in the thick of things. His coal mining background gets him placed with a group of soldiers digging careful, silent tunnels beneath the artillery rocked wasteland of no man's land. He and three other boys, all there illegally and for very different reasons, must grapple with the extreme hardships of soldier life, working on a mission that no one will explain to them but that threatens to take their lives every day. The mission, though, is secondary for Thomas; despite the small odds, he still hopes to find his brother and make it back to England again…preferably in one piece.
I'm going to try and not be too critical here. This is a fine book for a young adult and a fine supplement to a unit on WWI. There are a variety of characters to connect to, plenty of action, and a great historical context. I really appreciate a book being written from a kids perspective on this war. On all those points, I don't have much trouble recommending it.
However…this is not particularly good literature. Flat characters and some very uninspiring writing made me eager to get through the last few chapters because, though I was determined to finish and wanted to know the conclusion, I didn't really care. Which is a fairly bad sign for a book.
I know, I know…it wasn't written for adults. But still…though an early teen could read and certainly enjoy this book, its story could have been delivered in a much more impactful, artful way.
| | | | |
| --- | --- | --- | --- |
| Profanity | 2 | | Minor (unless you count the British exclamation "bl**dy," which appears a fair bit). |
| Violence | 4 | | Well, it's about World War I, so you can imagine: plenty of vivid descriptions of gas attacks, shootings, injuries, etc. |
| Sex/Romantic Themes | 1 | | |
| Miscellaneous | | | The author's portrayal of Thomas' faith left me annoyed. Throughout the story his shallow Roman Catholicism seems to encompass little more than prayers to his dead relatives and a medal with a saint on it hanging around his neck. His morality (or lack-thereof) seems unaffected by his belief. Not that the text was antagonistic towards religion; just empty. |
NOTE: As always, my content notes are for informational purposes, not judgmental ones. For a full explanation of my Content Notes and the scale, click here.