"It began with the day when it was almost the Fifth of November, and a doubt arose in some breast – Robert's, I fancy – as to the quality of the fireworks laid in for the Guy Fawkes celebration."
So begins The Phoenix and the Carpet by Edith Nesbit. Never heard of her? Neither had I until some years ago another of her books, Five Children and It, showed up on a children's reading list I was using for our homeschooling. We decided to make it our family reading book (we try to be working through a book together as a family, reading a bit after meals or before bed). Everyone really enjoyed it and, honestly, it was my favorite book of the year. The Phoenix and the Carpet is the sequel, and so we bought a copy to read together.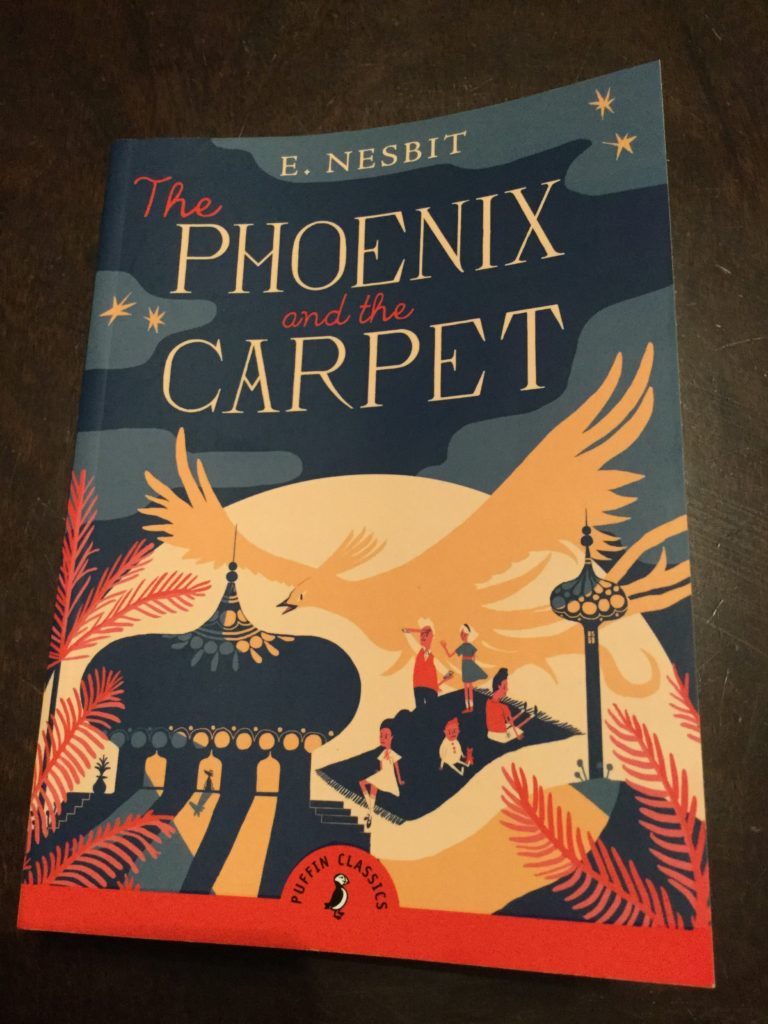 In brief, this is the story of five siblings whose mother inadvertently purchases a magic carpet with a phoenix egg wrapped up inside. The phoenix – who thinks very highly of himself – is hatched in their fireplace and the childrens' recent boredom comes to an immediate end. They soon find that their carpet gives them three wishes per day. Unfortunately, these wishes go about as well as you might expect with young children doing the wishing. Hilarious situations ensue, only one of which I will share here: at one point, they wish for the carpet to go to its native land and bring back something beautiful and wonderful. As it is a Persian carpet, it returns laden with…Persian cats. 199 of them. When they use another wish to try and get enough food to stop the 199 cats from their constant, deafening meowing, the carpet returns again with 398 rats, and all of this is shut up in a room of the children's house. You can well imagine the disaster.
Many of the wishes go about as well as this one and the phoenix bails them out of trouble on a number of occasions.
First the good: this is a brilliantly written book. Though not quite as good as Five Children and It, Nesbit's humor is delightful and elicited more than a few chuckles from our family. Her understanding of children and the way they think is spot-on, and there are so many small, subtle jokes that I really think Kyna and I enjoyed it even more than our kids.
Which leads to the bad. Not bad really, but the fact is that The Phoenix and the Carpet was first published in 1904 and was written by a British woman. Unsurprisingly, 1904 British English is a very far cry from 2019 American English, and there were quite a few parts that completely lost my kids just for the difficulty of the writing. In addition, she references all sorts of things that have passed out of the common use, several of which even Kyna and I were at a loss to explain. Did you know, for example, that an Etons is an overcoat, "junket" a milk-based dessert, and that tableaux vivants is French for "living picture?" Or do you know what a scent sachet called "Violettes de Parme" is? (If so, please let me know, because we have no idea except that it smells bad when burned.)
My recommendation is this: get Five Children and It and try it out on your children. If they like it, enjoy laughing together. If not…read it yourself. You'll be glad you did and might even find yourself ordering The Phoenix and the Carpet as well!
Profanity
1
None
Violence
2
A bit of roughness with some bullies at one point, but most of the violence – inadvertent – is done to the carpet 🙂
Sex/Romantic Themes
1
None
Miscellaneous


NOTE: As always, my content notes are for informational purposes, not judgmental ones. For a full explanation of my Content Notes and the scale, click here.