King Richard the First, Richard Coeur de Lion, came to the throne in 1189 – and very soon left his throne empty when he set off on the Crusade to free Jerusalem from the Saracens.
So begins The Adventures of Robin Hood by Roger Lancelyn Green. This is a book I recently taught in my fifth grade literature class. It was written by a friend and fellow-inkling of C.S. Lewis and, though there are many versions of the Robin Hood legends in print, this is considered one of the classics. At least, it says "A Puffin Classic" right on the cover. So it must be.*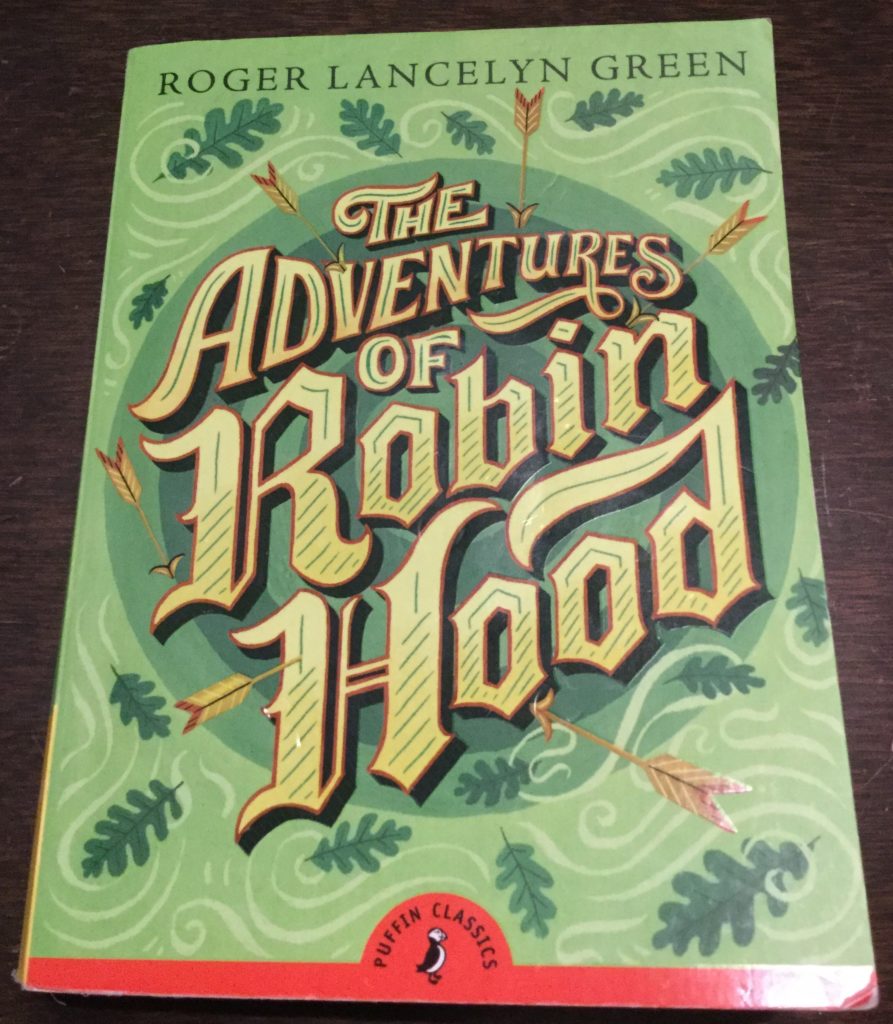 In brief, Roger Green has taken all the historical tales of the legend of Robin Hood and rewritten the best bits and pieces into this complete story. You may be surprised, as I was, to find that the tales of Robin Hood do not stretch back nearly so far as those of say, King Arthur, and we know little about the historicity of the man or the narratives that have come to surround him. Many of the most familiar of these narratives find their way into Green's version, from Friar Tuck carrying Robin across a river on his shoulders to Little John and Robin's quarter-staff battle to Robin splitting an opponent's arrow at a shooting contest. There were also plenty of stories that I'd not heard before and little tweeks to the ones I had.
I have mixed feelings on this novel. One the one hand, I didn't find it written in any way extraordinary or beautiful. At the same time, it was certainly competently done and Robin Hood's character shines through brightly. It was fun and adventurous and I appreciated seeing the whole Robin Hood story laid out, from the historical context (how those Normans and Saxon's hated one another!) and the situation of his birth to his eventual and tragic demise. Overall, I'd give it an "eh" and recommend it more for its comprehensiveness than its storytelling. To each his own on classics, I guess.
| | | | |
| --- | --- | --- | --- |
| Profanity | 2 | | There were a couple "asses" and a "damn" or two, but little else. |
| Violence | 3 | | This is not Disney's bloodless Robin Hood. While most of the violence is not graphic in nature, there's a lot of it, as well as discussion of eye gouging and finger chopping as punishments for hunting the King's deer. Aside from the swordplay and archery, there's also plenty of punching, whacking, etc. |
| Sex/Romantic Themes | 2 | | Several romantic subplots, Robin and Maid Marian among them, but they are kept innocent and non-sexual. |
NOTE: As always, my content notes are for informational purposes, not judgmental ones. For a full explanation of my Content Notes and the scale, click here.
* To be honest, I'm not sure that Green's version is a classic in the same sense as Great Expectations or Pride and Prejudice or one of the many original works that have made their way into our conception of "classic." It is a retelling after all, and of a story which has been done many, many times. It is not even considered the standard work on Robin Hood (see The Merry Adventures of Robin Hood by Howard Pyle as another "classic" example). Better, perhaps, to consider this a well-done and popular retelling of a classic tale.