"Once, in a house on Egypt Street, there lived a rabbit who was made almost entirely of china."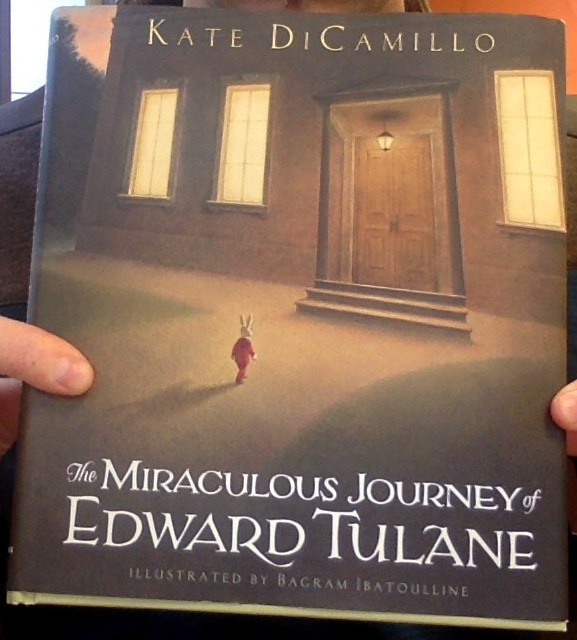 So begins The Miraculous Journey of Edward Tulane by Kate DiCamillo (and, I must add, wonderfully illustrated by Bagram Ibatoulline). This is a book that Ivy recently received and, as I'm on Christmas vacation and have some extra time on my hands, I decided to plow through it myself. I was not disappointed!
In brief, this is the story of the travels of a finely crafted china rabbit. "Travels" in two senses, actually. In the most literal sense, though Edward (that's the rabbit's name) begins as the highly prized plaything of a little rich girl, he comes into the hands of a whole cast of characters throughout the story and is moved from garbage dumps to garden posts to store shelves to ocean liners. The more significant "traveling," however, is done not geographically but emotionally. Though Edward begins as cold and hard as the china from which he is made, his spirit – such as it is – is moved progressively by those who come to love him.
I thoroughly enjoyed this book. The writing is smooth and pleasant to read (even aloud, as I did for a bit to Simon), the story is well-crafted and interesting, and – at least in this edition – the illustrations are beautiful and fitting. Though there is certainly an emotional theme here, it does not drown the characters or story; Ivy devoured the book in what couldn't have been more than a couple hours.
I will offer one caution (not a warning, just an FYI): This is a sad book. It ends well, but along the way there are some really hard things that Edward and his various owners suffer through. So be prepared to shed a tear or two.
| | | | |
| --- | --- | --- | --- |
| Profanity | 1 | | |
| Violence | 2 | | I'm not counting the various acts of violence that happen to Edward (he's a toy, after all). There is one significant moment where a father strikes his son in anger. |
| Sex/Romantic Themes | 1 | | |
| Miscellaneous | | | As I said in the review, this is an emotionally engaging and sometimes wrenching read. I only note this because it stands out to me from the other children's literature I've read and I know one of my children in particular would not enjoy it because it is so sad. |
NOTE: As always, my content notes are for informational purposes, not judgmental ones. For a full explanation of my Content Notes and the scale, click here.