"Like a man-made magic wish, the airplane began to rise."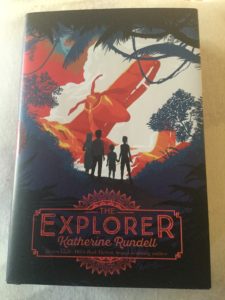 So begins The Explorer by Katherine Rundell. For Ivy's birthday this year, we wanted to get her something similar to the monthly book subscriptions by OwlCrate, but they're a bit pricy and we didn't like not having control over what books she received so we decided to make our own. I did a little research on new middle-grade fiction and this was one that I ultimately decided on. As this is a bit more advanced than what she's read before, I wanted to preview it and am glad I did.
In brief, this is a survival story. Four kids crash-land in the Amazon jungle and have to navigate these unfamiliar and dangerous surroundings – as well as their companions' personalities – to try and reach civilization again. Along the way they have some fairly typical adventures: eating bugs, surviving pirhana, sleeping in the rain, etc. They also meet a long-lost adventurer, whose help and perspective have an impact that lasts well beyond the jungle.
Despite the common plot – at least until they meet the explorer – the complex characters make this novel more than your standard retread. They are well done and well crafted, from Fred, whose spirit is awakened by the jungle even as his view of exploration is changed, to Lila, whose commitment to her little brother Max burns both steady and passionate throughout. I enjoyed getting to know them and found the overall writing to be solid. I'm glad we chose The Explorer. I hope Ivy will be, too.
Profanity

2

God's name is taken in vain a few times and there's a coupe instances of d**m.

Violence

1

Sex/Romantic Themes

1

Miscellaneous
NOTE: As always, my content notes are for informational purposes, not judgmental ones. For a full explanation of my Content Notes and the scale, click here.